Prism Sonic Electronic Toothbrush
Sale price
$99.00
Regular price
Automatic on & off
Waterproof (IPX8)
60 day battery time
Wireless charging
100% satisfaction guarantee
Estimated Delivery:Dec 06 - Dec 10

Free Shipping: On all orders over €40
The self activating toothbrush...
Experience next-level oral care with the PRISM Sonic Toothbrush. Equipped with an intuitive automatic vibration start and an advanced pressure sensor, this toothbrush ensures the optimal cleaning experience. Keep your smile bright on the move with the sonic toothbrush 60-day charge and effortless wireless charging.
Choose among three tailored cleaning modes:
Clean: High-frequency sonic vibrations for a thorough cleanse.
Sensitive: Gentle strength, specifically designed to protect your gums.
White: Pulsating vibrations aimed at effectively removing plaque.
Never miss a beat with the time reminder, prompting a full 2-minute brushing session and a 30-second interval for a quadrant change.
For those who enjoy a brush in the shower or a quick rinse under the tap, rest assured, as it's IPX8 certified waterproof, allowing full immersion in water.
Prism Sonic Electronic Toothbrush
Sale price
$99.00
Regular price
Pressure activating sonic brushing
Brushing your teeth just got a whole lot cooler with the Be Lucent Prism Toothbrush. No need to hunt for a button anymore—just apply some pressure, and voila! It springs to life. It's smart, intuitive, and designed with real life in mind. But hey, if you're feeling old school, there's still a button tucked in there for you. Whether you're a fan of the no-fuss pressure-activation or you like the classic push-button, the Prism's got you covered. It's not just a toothbrush; it's brushing, reimagined.


60 Days Battery
Say goodbye to frequent charging, Prism has got you covered for two whole months on a single charge.
Vibrations+Oscillations
Delivers rapid vibrations and horizontal movements to enhance cleaning for optimal plaque removal
The 2-minute timer
Never brush too short, Prism has an built-in timer so each 30 seconds it will vibrate, and after 2 minutes turn itself of.
Wireless charging in the Prism stand
Prism only requires charging every 60 days, but when it does need to be charged, you can do so in a stylish manner. The package includes a wireless charger.
30 Days
100% satisfaction guarantee
Money back if you don't like the Prism as much as we do *
30 Days
100% satisfaction guarantee
Money back if you don't like the Prism as much as we do *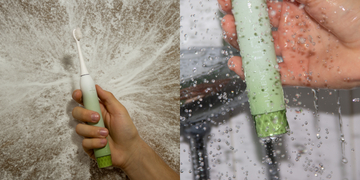 Beautiful design and a joy to use
I love the sleek design of the prism toothbrush. It feels like an interior piece.
I also like the different functions, especially the auto on-off function that makes it easier to pause the brushing when I need to talk.
My teeths thanks me and feels more fresh than ever.
Skön tandborste
Köpte tandborsten för att den hade 60 dagars batteritid, var trött på att tänka på laddningen varje vecka. Jag har inte haft den i 60 dagar ännu, så kan inte säga om det stämmer eller ej, men det verkar stämma hittills, har inte behövt ladda den ännu iallafall.
Att den aktiverar sig själv tyckte jag mest var coolt, men lite onödigt. Nu använder jag det faktiskt ganska ofta, smidigt att bara kunna ta upp tandborsten och inte tänka på mer. Tycker även den rengör mycket bättre än min oral-b (visserligen billigare modell), vilket känns bra. Stället var även mycket snyggare än dem jag sätt innan, kommer faktiskt ha framme det här stället till skillnad från tidigare där jag har gömt det.
Det enda negativa är att det tog en vecka att få paketet, vilket känns lite långsamt, men det får väl vara lungt.
Rekommenderar den definitivt!
Amazing feeling
Had several brushes over the years but this one is more ergonomic and has higher quality than the previous ones
Ny renhetskänsla
Aldrig känt mig så ren och fräsch. Grym eltandborste